OEE calculation can be integrated into the existing SAP environment
How much value a machine or system creates in its work is key information for businesses that manufacture products. This type of information is provided by the Overall Equipment Effectiveness (OEE) indicator or OEE calculation. The Overall Equipment Effectiveness indicator was developed in the 1980s at the Japan Institute for Plant Maintenance (JIPM). Today, the value enjoys an excellent standing among KPIs. The reason is that the OEE calculation merges all factors which define the performance of machines and systems – and even production lines: availability, performance and quality. Overall Equipment Effectiveness lets users track how well the equipment exploits its existing potential and where losses occur.
Conducting an OEE calculation properly
For the OEE calculation, relationships must be set up between various data from the shop floor.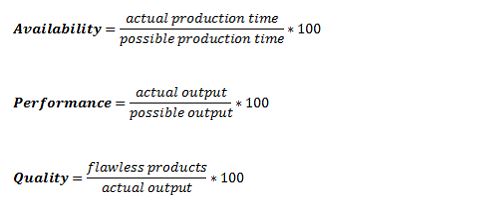 Three individual factors are calculated from these relationships in percentages. The higher these values the better. This is a general tendency, because the OEE indicator is calculated by multiplying all three factors together. In the end, it would be of no benefit if a business were to have tremendously good availability and performance but just produce scrap.
For producing businesses to benefit from the calculation of Overall Equipment Effectiveness they need to use the indicator properly. They must:
determine today's OEE value,
reveal where losses are occurring and where there are unexploited potentials,
develop actions and implement them, and
track values of Overall Equipment Effectiveness over time.
Analysis and visualization of Overall Equipment Effectiveness
top MES makes the Overall Equipment Effectiveness of your machines and systems available, and – extremely important for success – it offers many options for analysis and visualization.
As part of top MES, OEE analysis – including Production Data Collection or Machine Data Collection – can be integrated seamlessly into SAP ERP or SAP S/4HANA. This means that the computed indicators are based on corresponding SAP receipts. This ensures data integrity throughout.